Assist Family Lawyers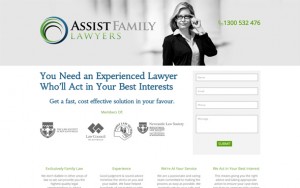 Leah, from Assist Family Lawyers engaged the services of Glue Digital to assist with their re-brand and launch of a new website. Leah already had a design concept created and brought that to Glue Digital for further development.
Our design team used that as a basis to get the exact requirements and the outcome Leah required from this fresh new website. The end product was built upon the WordPress content management system which empowered Leah to further develop the site in the future, and of course maintain and update the content as required.
We've continued to work with Leah to fine tune the site and assist her in adding additional content and pages. Together with Brendan from Potent Digital, we developed specific landing pages to tie in with a Google AdWords campaign. This has already generated new referrals for the team at Assist Family Lawyers. It also ensures that when people are looking for the particular services that Assist Family Lawyers provide, that their website is one of the first presented to them when searching on Google.
If your website is not performing and getting you the qualified leads that you need, speak with Glue Digital today. Having a website is simply not enough to tick the box on the marketing checklist. We want to work with you to ensure that it brings you new and qualified leads and ultimately builds your business.