Northlakes Community Carols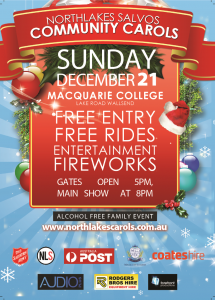 For the third year running Glue Digital has proudly supported the Northlakes Community Carols held in the Newcastle region, and provided by the Salvation Army at Northlakes. The team of Glue has assisted with branding, print design and assisting with marketing campaigns.
For 2013, we developed a fresh new brand for the event which included logo design, flyer and social media campaigns. The design and the campaign were so well received by the team, as well as the community, that the same design is being used for the 2014 event.
This carols event is a great opportunity to the community of Northlakes region. We are proud to be a part of it and to assist in helping to make it a success.
If you are local to Newcastle, looking for a great carols event, or a business looking to support a great local work then we encourage you to visit North Lakes Carols at www.northlakescarols.com.au