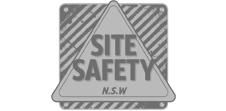 PROJECT DETAILS
Web Design + Development
Custom Functionality
Content Management System
LAUNCH SITE
Luke from Site Safety NSW had a problem with his website that, unfortunately, is not too uncommon.
He had recently re-branded and changed the name of his company and needed to access his current website (known as New Castle Roof Rail) but was unable to do so. The simple process of changing some logos and some wording had turned into quite a complex project that Glue Digital was undertaking for Luke and the team.
For quite a few years, the business had been building a brand under New Castle Roof Rail and was receiving quite good results in Google. The outcome required was to maintain the great standing in Google while also launching a new site that reflected the new name and brand of the business.
Unfortunately, with that access to the current website, we undertook the process to duplicate and emulate the existing website as close as possible.
Once we had completed this part of the process, we duplicated the site and updated the content and images to reflect the new brand accordingly. Unfortunately, the process that should have been simple took a lot longer to achieve the outcome that Site Safety NSW required.
Our focus at Glue Digital does not only include producing websites, but also helping businesses be more effective online. The outcome has been achieved, with both brands now being present and customer enquiries still being received – thanks to the Google ranking not being impacted by the changes that were made.