Lyall Buick
FIRST IMPRESSIONS COUNT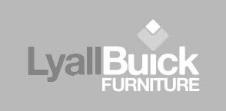 PROJECT DETAILS
Web Design + Development
Custom Functionality
Content Management System
LAUNCH SITE
If you live in the Newcastle and Lake Macquarie region then Lyall Buick furniture is a household name. Whether it is the familiar TV commercials or the showroom in Kotara, the team at Lyall Buick have been selling furniture in this area for many years.
Recently they approached Glue Digital to upgrade and modernise their web presence. It had been many years since their website had been refreshed and it was quite evident that the quality and prestige of their showroom did not match what was being presented to their potential customers online.
We begin the project to create a web presence that was as enticing for customers as their physical showroom was.
Some of the key outcomes we achieved with this project are:
A brand-new, fresh and innovative web presence;
A focus on funnelling customers to enquire and therefore visit the showroom to see the product they are interested in;
Showcasing a large amount of products including featured brands; and
A detailed but simple to use online catalogue system that allows the team at Lyall Buick to easily administrate the products themselves.
The outcome has been a great success and was a project that the team at Glue Digital were very proud to work on. Lyall has already seen an increase in enquiries from the website that are leading to sales, and the new functionality has proven to be effective.