Coastal Smoke Alarm Services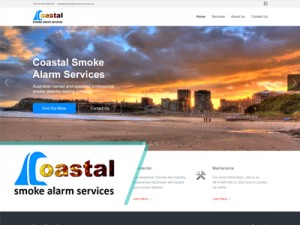 Coastal Smoke Alarm Services contacted Glue Digital to build them a new site with very specific functionality. They already had an existing website however it was outdated and in need of a fresh new look. We began the project by creating concepts for a brand new WordPress based website. As a first stage of this entire project we developed the new site based upon current compliance requirements to keep them in Google's good books, and also provide a modern and stylish design.
We encompassed the full branding package, designing them a new logo, as well as a complete new look for their web presence. Whilst the website was quite straight forward, we also put extra effort into ensuring that each part of the website is easily updated by their team. There is no requirement for them to understand coding or any other technical requirement to be able to make changes to the important information and content on their website. We achieved this by creating for them a custom settings pages in the WordPress dashboard that allows them to update all the components for their website – with just a few simple clicks of a button.
The main part of this project was building their client portal, Coastal Smoke Alarm Services required their real estate agent clients to be able to login to a safe and secure portal to be able to create service requests. We custom built this system specific to their needs. Their clients can now sign up, be added to the client portal system, and login and upload new properties to the backend system.
Once the properties are uploaded they can routinely request the standard services provided by Coastal Smoke Alarms by simply selecting the property and clicking a button. This information is then submitted via email to the Coastal Smoke Alarm team where they can then action their request. Not only can the real estate agent create new property listing they can also edit their existing ones and update details such as the tenant contact information.
The outcome was a system that is completely automated for the Coastal Smoke Alarm Services team. Not only did it create for them a streamlined web presence but it also supported their day-to-day business by making the function of their clients submitting service requests far simpler and easier to manage.